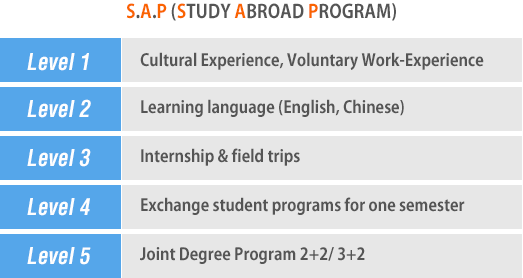 Sunlin College's Study Abroad Program gives students opportunities to study in overseas countries. There are five study abroad programs. First of all, 'Culture Experience Program" allow students to experience foreign culture by visiting universities and related institutes abroad for a week. Through the 'language training program', students can sharpen their foreign language skills so that they can have more opportunities to land a job after graduation.
There are also the 'global training program' run by the Ministry of Education, Science, and Technology and the 'overseas field training program' through which students can acquire work experience in foreign countries such as the U.S, Canada, Australia, New Zealand, Japan, and China for 3 to 16 weeks.
Sunlin College's exchange program with universities in sisterhood relationship allows students to go abroad for one semester and have a new experience through cultural exchange with foreign students.
In addition, students can transfer to Sunlin College's sister schools after finishing 3 semesters in Sunlin College through 'Transfer/Admission Program' so that they can improve their foreign language skills and grow to be a global leader.
Sunlin College has established academic ties with University of Sunshine Coast in Australia, Northwestern Polytechnic and Emporia State Universities in the U.S.A, Pacific International Hotel Management School in New Zealand, and College of New Caledonia in Canada.
With the faculty of Northwestern Polytechnic University sent to Sunlin College through the dual degree program, Sunlin College offers classes in English.
Sunlin is a global leader college where students are more satisfied with their school experience after they are graduated than when they entered the school. Sunlin College encourages its students to have more passion and realize their full potential with a human network established with a 40-year history.